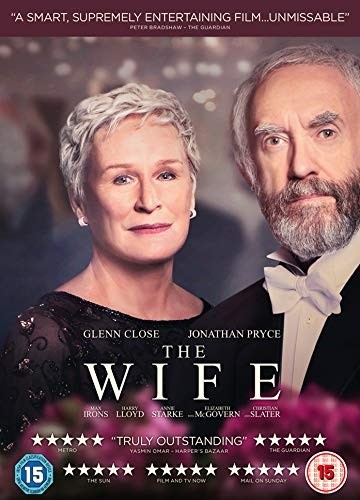 The Wife running in Indian cinema halls currently, left me with a complexity of emotions.
Joan is a young woman in the late 1950s, hungry for love and security, also talented and bold enough to write what she thinks. Her potential is revealed to the Professor of English Joe Castleman, in her initial writing itself. What dissuades her is that the rare woman author she meets, tells her there's no way to get approval and succeed in a man's world.
The Professor and she fall in love. As a budding writer, his ego does not accept criticism, feedback and rejection, becoming a compelling threat to their relationship. Joan in order to secure their relationship and help Joe succeed, pitches in and revises his articles, even getting 'him' published! Success leapfrogs his way as she churns out success after success, making him a literary genius the world worships.
Forty years into the marriage, Joe is about to get the Nobel Prize for 'his' acclaimed and prolific body of work. The visit to Stockholm to receive the award kicks off a huge series of emotions for Joan and throws back into a lifetime of shared compromises, secrets, betrayals and mutual love, triggered by a journalist smart and stealthy enough to uncover Joan's early writings as much superior than Joe's and his observation that Joe's literary star has blazed forth since he and Joan first met in the late 1950s.
Finally Joan throws in the towel and tells Joe she's leaving him.
One wonders, if Joan got what she wanted – love, security, a family with a grandchild on the way, wealth, travel, fame as being an acclaimed author's wife, then what was lacking and prompted her to rebel?
Can you relate to what Joan was going through?
Repression at not being able to express her talent openly (Her ghostwriting for Joe was a closely guarded secret that even their children knew nothing about!) Joe even jokes about his writing saying 'I'm glad my wife does not write or else I would permanently have writer's block.' He thanks her for being his muse, motivator and constant by his side but this annoys her considerably.

Playing the role of wife, care giver, secretary, adviser and possibly everything else to Joe, and being taken for granted, she feels humiliated. A parallel I could draw was that women are automatically tasked with doing unpaid work at home that includes cooking, domestic chores, taking care of the sick or aged and child rearing which means they have a lot of 'thankless' daily work on their plate.

No sense of personal identity or achievement. She is 'invisible' to people who are attracted to the great writer and completely ignore her presence.

Nurturing but not being nurtured.
Joan is angry not just at Joe, his inadequacies and affairs but also her own mismanagement of her life. She cannot undo the past. Times had changed and women were impacting the world positively and being recognized for it! Somewhere she realizes that she is responsible for what she has made of her life and only she can mend it now.
Upon reflection, I wondered if it was any different with us. Aren't many Indian women setting themselves up to get into Joan's shoes in the future? If we look around, there are clear indicators of this possibility. The current trends in gender gap at the workforce seem to point in that direction.
60% of young women drop out of the workforce within 5 years of work.

An overall 24% of women drop out across all age groups.
On the other hand, Indian women over the generations, have made a mark in diverse fields. Often it is the parents or spouse, who encourages and even nudges these women beyond the set boundaries and the positive outcome is realized quite rapidly. Sportspersons Mary Kom, Saina Nehwal, Hima Das and the Phogat sisters, Corporate Honcho Kiran Mazumdar-Shaw, Kiran Bedi IPS, BusinessWoman and Philanthropist Nita Ambani, Film Maker Meghna Gulzar are some of the women who have been greatly influenced by their men in their families and achieved success in their lives.
Women today are poised to have it all, being buoyed by enabling factors like greater opportunities for education, global exposure, diverse career options, networks and support groups, mentors and coaches, to leapfrog them into the fields of their choice. Added to their talent and skills is the innate quality of being a woman. Women are credited with being empathetic and good listeners, diligent workers, multi taskers, nurturers, innovators, home (finance) managers and natural leaders.
The branches on the tree of success are many however the ones that could be the main enablers include:
Life's meaningful purpose

Health

Happiness

Freedom of expression

Independence to make decisions

Talent and Aspiration

Wealth creation
There is still much ground to be covered however the outlook and work going on in boosting women in the workforce is very positive. Our new initiative, the Women Financial Advisers Network in India will offer important enablers to help you get started on your new life and money journey.
Women in Finance with 1-5 years' work experience aspiring to work independently, returning moms or tenured corporate women practitioners looking for greater flexibility and alternative careers will be awakened to a whole new world of possibilities and opportunities, to enable them to do business on their terms, while being nurtured to have a 'healthy, wealthy, happy and meaningful life.' To know more, please download our brochure.
Credits
3. What women want – can you have it all? https://yourlifeandmoney.com/what-women-want-can-you-have-it-all/
4. Life & Money joins hands with the Garrett Planning Network for the Women Financial Advisers Network in India
https://www.prnewswire.com/in/news-releases/life-amp-money-joins-hands-with-garrett-planning-network-us-to-launch-an-exclusive-the-women-financial-advisers-network-in-india-801350030.html#nav-mobile