Last year, the Future of Employment report stated that according to its research, there are 5 jobs that can never be replaced by automation in the next 20 years.
Mental health and substance abuse worker
Occupational therapist
Dietitian and nutritionist
Physician and surgeon
Clergy
Isn't it amazing? But it isn't completely surprising. Financially, we may be better than ever but many of the people in their 30s to 40s are facing a huge existential crisis. The fact that a mental health practitioner and a member of the clergy can take precedence in the Future of Work tells us a lot about the emotional and spiritual bankruptcy that now stares us in the face.
If you are an HR professional or someone who works in a regular job, then this report would mean a lot, not merely in terms of upskilling. There is another crucial element to all this, though, and it could turn the workplace of the future upside down.
Emotional wellness in the workplace can singlehandedly make or break a company's productivity. Remember that Jerry Maguire quote?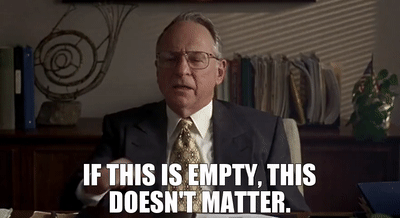 Are Indian companies waking up to the horrors of emotional negligence in the workplace?
On December 22, 2017, Life and Money conducted a Twitter chat about emotional wellness in the workplace with Smriti Joshi, a leading clinical psychologist, Telemental Health Expert and the Psych Lead at Wysa, an AI chatbot for behavioral health. The chat was a great way to gauge the trends in employee programs in India.
The insight from the chat was stunning, to say the least. Not only did a majority of our Twitter followers, users and participants feel that emotional wellness is vastly neglected in the workplace. They also responded to the topic more overwhelmingly than they did to the previous chat sessions. Clearly, emotional wellness is perceived to be the lynchpin of any unit of society, whether it is a family or an organisation.
What is emotional wellness? According to the University of California, "implies the ability to be aware of and accept our feelings, rather than deny them, have an optimistic approach to life, and enjoy life despite its occasional disappointments and frustrations."
Here's what the statistics say about emotional wellness in India.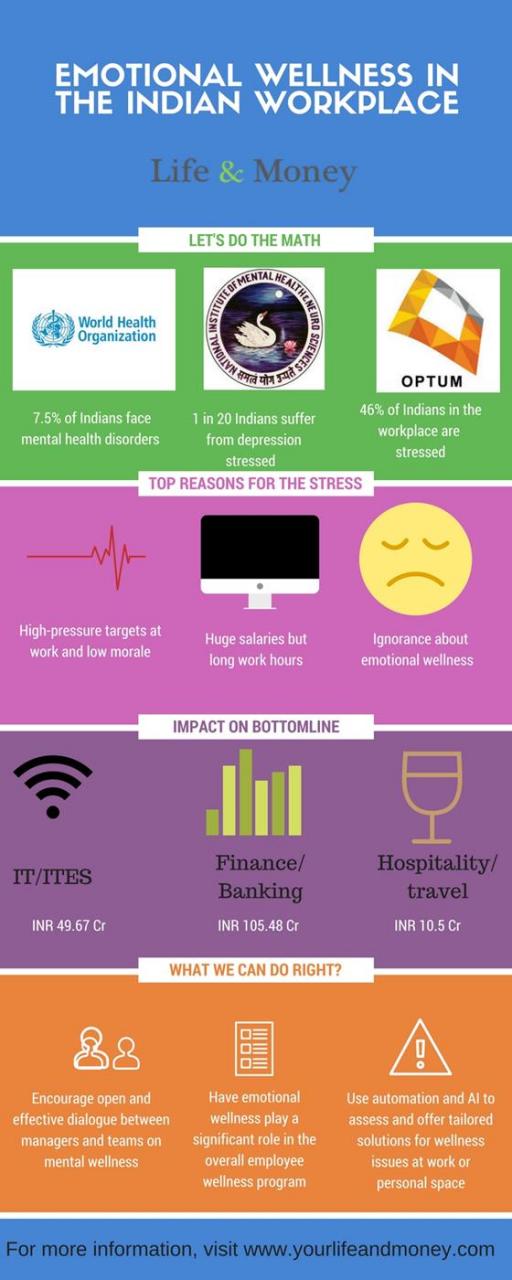 A spectrum of behaviour
Emotional wellness isn't just a good day at the office. It constitutes a spectrum of behaviour and an understanding of ourselves as humans, apart from mindfulness and survival. Says Smriti, "Emotional wellness at workplace is a multi‐variable concept, with several factors influencing & being influenced by each other in varying amounts at different times."
Some of these variables are:
Degree of engagement with one's job
Energy and vigor
Flexibility and adaptability
Level of motivation and engagement
Personal and work‐related control
Resiliency
Tolerance for ambiguity
Mithun Sanyal asked an important question, "Can someone with mental or physical illness be emotionally healthy?" According to Smriti, "People with mental or physical illness who are on their treatment and adhering to any lifestyle change routine can be emotionally healthy as compared to people with any physical or mental illness who haven't sought help." In other words, early detection can be treated with just psychotherapy.
What companies should do
Companies do run wellness programs but why don't they make a bigger impact? According to Partha Iyengar, Founder of Life and Money, "Our interactions with firms indicate that they appoint a service provider or in-house professionals who does one to one emotional counselling programs through online or onsite channels. The stigma factor associated with counselling runs very deeply in our culture. Hence, the success rate of these programs either in terms of enrolment or in terms of effective outcomes is marginal."
Says Smriti Joshi, "We run automated programs via a chatbot at Wysabuddy, based on mindfulness- based stress reduction and cognitive behavior therapy. This helps in managing moods, building resilience, enhancing wellness via positive psychology interventions, smoking cessation and more.
Smriti insists that emotional freedom should be so freewheeling that employees should be able to talk about being upset, stressed or sad with as much ease as they say they have a cold or a fever.
According to Joseph George A, "Emotional health is casualty when a side drops respect for the other. Authenticity, Reciprocation, empathic accuracy all help. Responding from inner core as important as enabling it in others."
Adds Partha, "Leaders will increasingly talk about their emotional and mental challenges in their lives and how they are dealing with it or managing it well. Silicon Valley has already started it."
According to Impact and Outcomes, an India Study 2016, "Currently, the programs are being 'pushed down' by the organization and hence to a certain extent de-valued. In the future, programs to be planned such that they create the "pull factor" for the employees to take charge of their own health."
Life and Money, India's first digital wellness platform, is incorporating many such pull factors in the program. Life and Money uses some of the principles of Richard Thaler's 'Nudge.' Thaler won the Nobel Prize for Economics in 2017 and pioneered "choice architecture."
Our favorite example of Nudge is apparently also Thaler's example. It's when pictures of flies were engraved in the porcelain near the drain of men's urinals, a human experiment that led to 80% less spillage on the floor. The reason? Men like to take aim!
The above blog is by Shweta Sharan