https://www.youtube.com/watch?v=l6upcwWf3DQ
A luxury vacation doesn't need to sound like a far off dream or feel like a load of debt waiting to happen.
Look, I know life gets busy and we can narrow our focus sometimes. Then, you look back and say why am I working so hard with no celebration of all my efforts?!?
Or you randomly decide to book a vacation but wind up putting way too much on your credit card and feel guilty after.
No wonder you haven't taken a vacation in awhile!
There's a Financially Wise way to do this whole travel thing, which I'll explain in this 4 tip episode of Financially Wise TV.
After you've taken a peek at the video, I want to know your top secret travel hacks!
What do you do to go on luxury vacations without maxing yourself out?

Where are you traveling this year?

Do you put it all on a credit card to earn miles and then pay the balance off immediately?
Remember, share with abundance and truth. Your sharing may be THE thing that inspires one of the other beautiful souls that read this blog.
Huge thanks for joining me here, sharing YOU and being a Financially Wise Woman. Every interaction makes a difference.
If you know of anyone that can benefit from the tips and tools here, please spread the word!
---
The above blog is by Brittney Castro originally published in Brittney Castro's Blog – Financially Wise Women.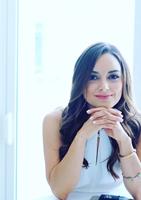 About the author: Brittney Castro, CERTIFIED FINANCIAL PLANNER™ is the Founder and CEO of Financially Wise Women, a Los Angeles based financial planning firm for women. She specializes in working with busy professional and entrepreneurial women who are passionate about life and want to gain clarity around their money. Brittney's mission is to help women plan and create the life of their dreams, free from anxiety about money. She is known for her non-judgmental, compassionate approach to financial planning. She has been featured in the Wall Street Journal, New York Times, Financial Planning Magazine, Investment News, and Registered Rep Magazine. Away from the office, you can find Brittney working out, drinking green juice, reading, playing at the park with her dog Arya and of course dancing. Visit her at http://www.financiallywisewomen.com and request a FREE 30-minute Discovery Session to discuss how financial planning can help you use your money to live a life you love. Financially Wise Women is a registered investment adviser offering advisory services in the State of California and in other jurisdictions where exempted.