The following blog is by Brittney Castro originally published in Brittney Castro's Blog – Financially Wise Women.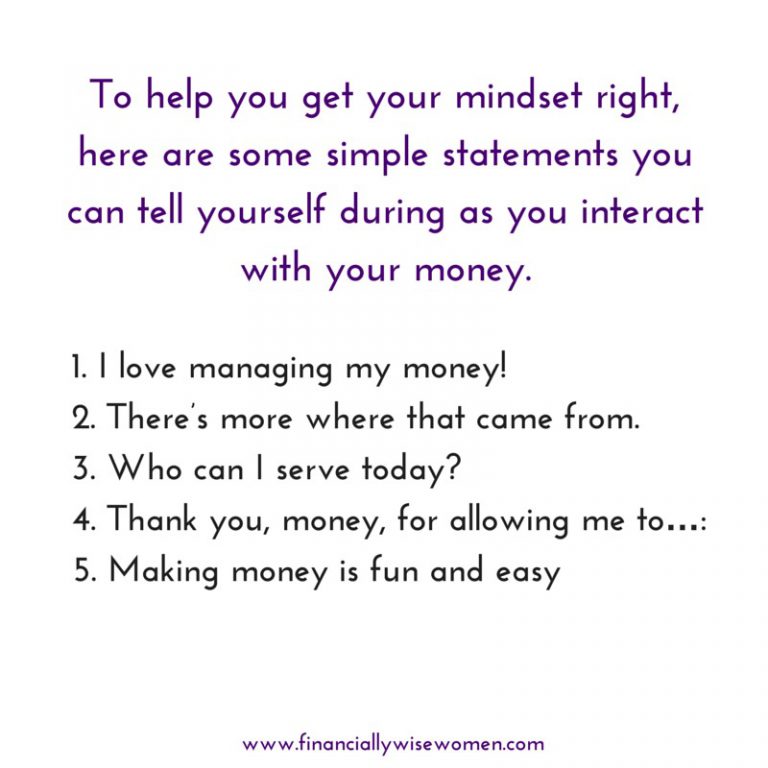 With just a few weeks left in 2014, what thoughts or beliefs about money do you want to get rid of before we head into a new year?
I hear all the time from women to come to me for financial planning how they suck at managing their money. They are making money, yet still living paycheck to paycheck and wondering why they just can't figure out their finances.
So instead of continuing on this way in your financial life, decide today to change your mentality to one that will serve you moving forward.
To help you get your mindset right, here are some simple statements you can tell yourself during as you interact with your money.
I love managing my money!
There's more where that came from.
Who can I serve today?
Thank you, money, for allowing me to…:
Making money is fun and easy.
While these acts are small, the small steps add up day after day to help get you to your goal.
Don't make money more stressful than it needs to be. Take back the control and focus on the little things that will help you create a new mindset and relationship with your money. Try these phrases for the next 30 days and see what magic can unfold in your financial life. And, as always, continue to educate yourself about money and how you can use it to live your dream life. Remember: You can do it. Believe in yourself and believe in your goals. You deserve to live a life you love using your money.
About the author: Brittney Castro, CERTIFIED FINANCIAL PLANNER™ is the Founder and CEO of Financially Wise Women, a Los Angeles based financial planning firm for women. She specializes in working with busy professional and entrepreneurial women who are passionate about life and want to gain clarity around their money. Brittney's mission is to help women plan and create the life of their dreams, free from anxiety about money. She is known for her non-judgmental, compassionate approach to financial planning. She has been featured in the Wall Street Journal, New York Times, Financial Planning Magazine, Investment News, and Registered Rep Magazine. Away from the office, you can find Brittney working out, drinking green juice, reading, playing at the park with her dog Arya and of course dancing. Visit her at http://www.financiallywisewomen.com and request a FREE 30-minute Discovery Session to discuss how financial planning can help you use your money to live a life you love. Financially Wise Women is a registered investment adviser offering advisory services in the State of California and in other jurisdictions where exempted.